Infinity roses have bigger flowers, last longer and now they are available in all colors.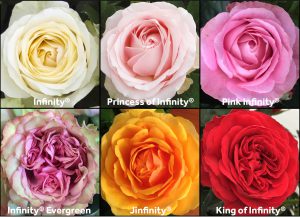 The white Infinity entered the market in January 2012 and won a price in Germany as the best indoor plant in the same year, setting a new quality standard for potted roses. With larger flowers and great durability, the Infinity rose was quickly discovered by the professional buyers who minimized their waste in the stores.
Quickly, the white Infinity became a bestseller in Denmark and Germany.
The year after that, the pink-colored rose came true – a real princess colored rose, which had to be baptized by a true princess, and that's what the Crown Princess said yes to.
In the summer of 2013, HRH Crown Princess Mary of Denmark baptized during the opening of the Odense Flower Festival the new beautiful rose 'Princess of Infinity'.
Two colors gave the series a boost, and several major customers believed that Infinity was now a series.
Scandinavian colors are popular
The Nordic look is modern, so the demand for white and light pink roses grew in Europe, but also as far as Japan, the new roses were exported. And until 2016 only white, light pink and pink Infinity were sold.
On-going breeding and selection
"There are always new varieties coming from my breeding greenhouse in South Funen, Denmark, and it is wonderfully exciting when the first sprouts grow up and bloom – I looked especially at Infinity's yellow and red children", says a happy rose breeder Rosa Eskelund and continues:
"I have been intensively breeding at Infinity roses since 2008 and the results were "only" white and pink so far – but in 2014 a yellow rose appeared among the Infinity children – it had large warm yellow flowers with the right durability. Now it should pass its test in the large production greenhouses and it went very well!
But there is no doubt that 'roses are red' so a red infinity was now my goal and greatest wish".
The red Infinity was presented for the first time on IPM 2018.
For more information please contact
Rose breeder Rosa Eskelund at re@roses-forever.com