Sweet Home Roses
®
A new series of garden roses for budding
Sweet Home Roses® is a series of very beautiful and romantic roses.
They are very suitable for planting outside in the garden tubs and beds, and will immediately bring summer atmosphere on the terrace and in your garden.
The Sweet Home Roses® will flower all season long, and since they are winter hardy, you will enjoy them many years ahead.
Care instructions:
Water just after planting
Keep watering as needed throughout the season
Cut the roses early spring when the frost is over
Fertilize during the growing season
Good advices:
Spring: Force the roses for early flowering in your greenhouse next year
Summer: Cut a rose bouquet for your vases indoor. The more you cut, the more new appears.
The Sweet Home Roses® are available in many different varieties.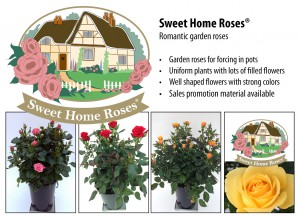 Sweet Baby™
Sweet Day™
Sweet Family™
Sweet Life™
Sweet Love Forever™
Sweet Love of Mine™
Sweet Paradise™
Sweet Summer™
Sweet Wine™
Sweet Winner™